I recently signed up for Spotify and couldn't help 'spotifying' myself. A search for "Kill By Inches" revealed a few releases, including Down to 3hree released in 1999 with yours truly on guitars. I'm not exactly sure who gets paid for streaming that record – certainly not me or other band members – yet, I'm paying for the service.
A search for "Alek Biotic" returned most of the Gotham Grooves cuts, as well as the track Dirty Yellow which had appeared on compilation CDs after the original, vinyl release on Robert Natus' Planet Natus label.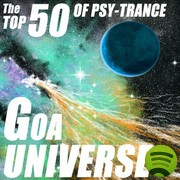 But the most interesting discovery was the 2009 re-release of Ghost (covered on Dopevector previously) which is my first ever release. Due to a typo, the artist name was "Alex Biotic" and appears that way on not one, but two 2009 re-releases of this track. The first is From Goa with Love 2, a compilation from the German Wax n Soul imprint. The second is Goa Universe – The Top 50 of Psychedelic Trance.
Weird shit.